Request a demo
Complete work-up of your echocardiography exams
Caas Qardia facilitates a complete and quantitative assessment of 2D transthoracic echocardiography studies. Caas Qardia is operated via your web browser; perform streamlined echo analysis from any laptop or PC within the hospital / institutional network. Flexible and ready for telemedicine!
Customize Caas Qardia to fit your preferred work-up
Caas Qardia allows you to create customized catalogs of measurements containing the analyses you require. Multiple custom catalogs may be created, for example based on your center's standard operating procedures (SOPs) for a specific clinical indication or patient group.
Myocardial strain analysis
Our validated myocardial strain workflow allows you to obtain the best assessment of global and regional cardiac wall mechanics. Category 1 CPT code +93356 for reimbursement available in USA.
Quality control indices
Foreshortening of the heart's views negatively affects functional measurements including myocardial strain. Caas Qardia aims to counteract this frequently unnoticed phenomenon by providing to the user quality control indices. This functionality may give the user feedback on the appropriateness of the data.
Unique deployment options
Being the world's first true web browser-based echo analysis solution, Caas Qardia leverages ease of use as well as versatility. Perform all of your echo analyses from at home or anywhere within your institution, no local Caas Qardia installation required. Note: Caas Qardia can also be used as a classical standalone application.
Key results
Ejection fraction and ventricular volumes

Global and regional myocardial strain

Diastolic function

Valvular function

Cardiac dimensions

Stress echo viewing
Key product features
Key product features
Seamless playback and review of echo clips
Create and customize your preferred measurement SOPs
Assess your patient's myocardial strain, ejection fraction and cardiac volumes in a guided manner
Comprehensive reporting and export options available
Feedback on appropriateness of the images by quality control indices
Client-server solution, no local installation required. Runs on a web browser
Contact information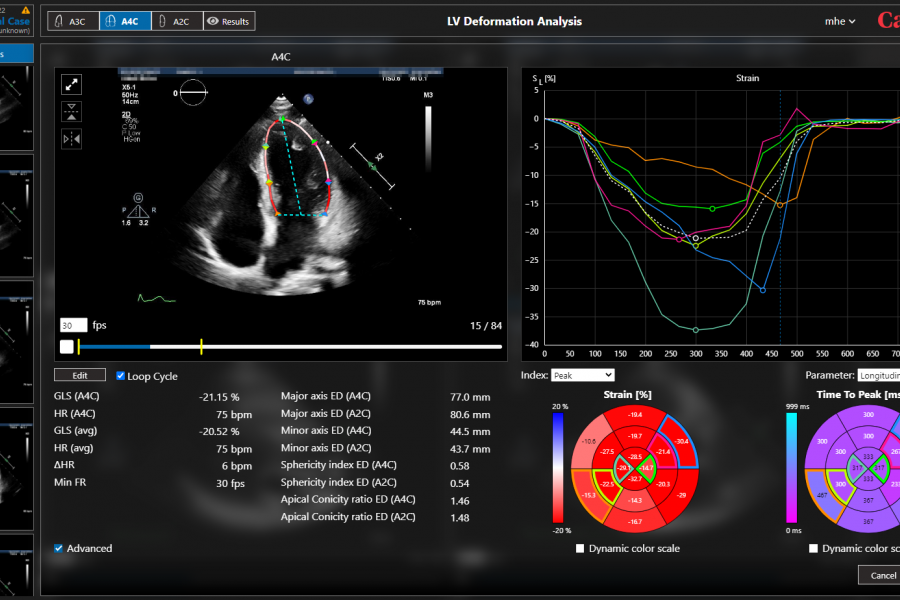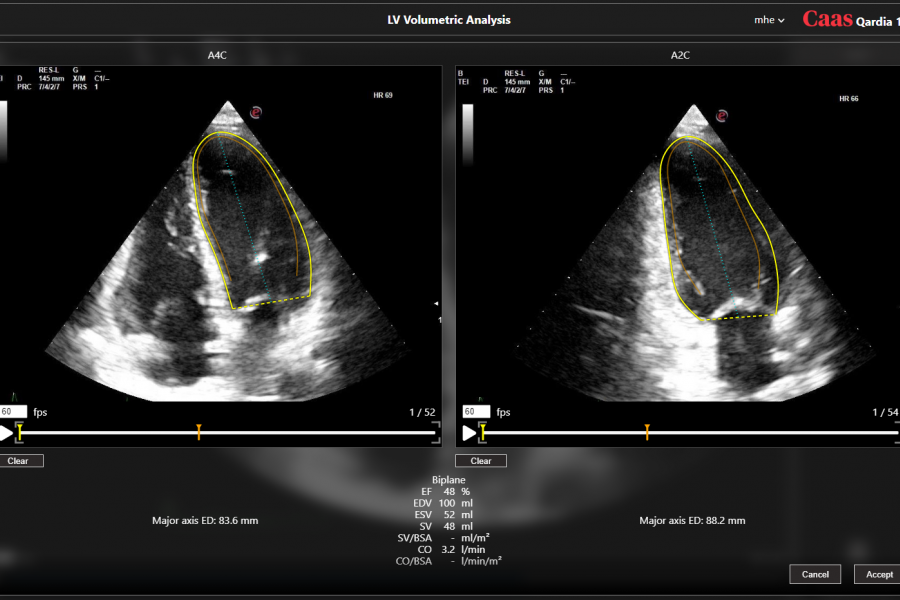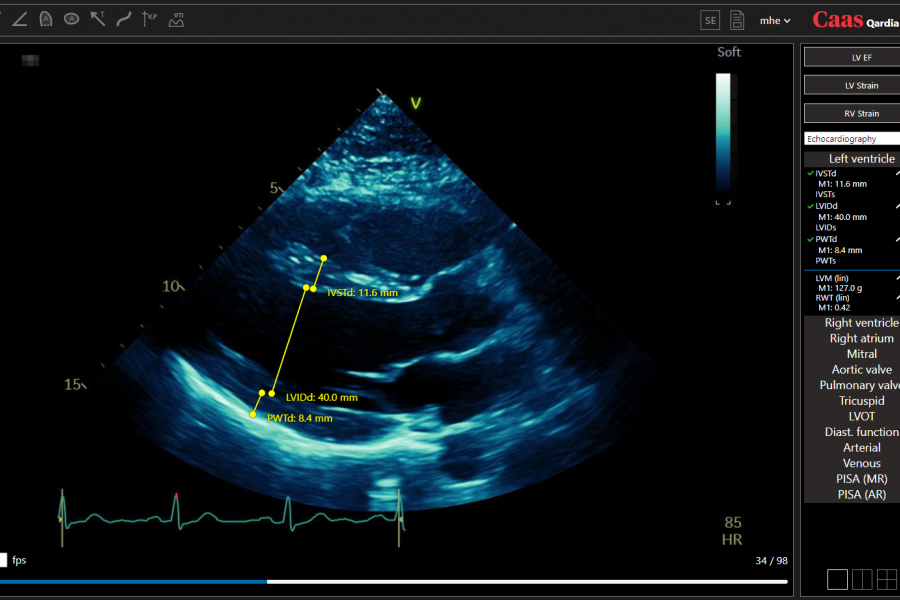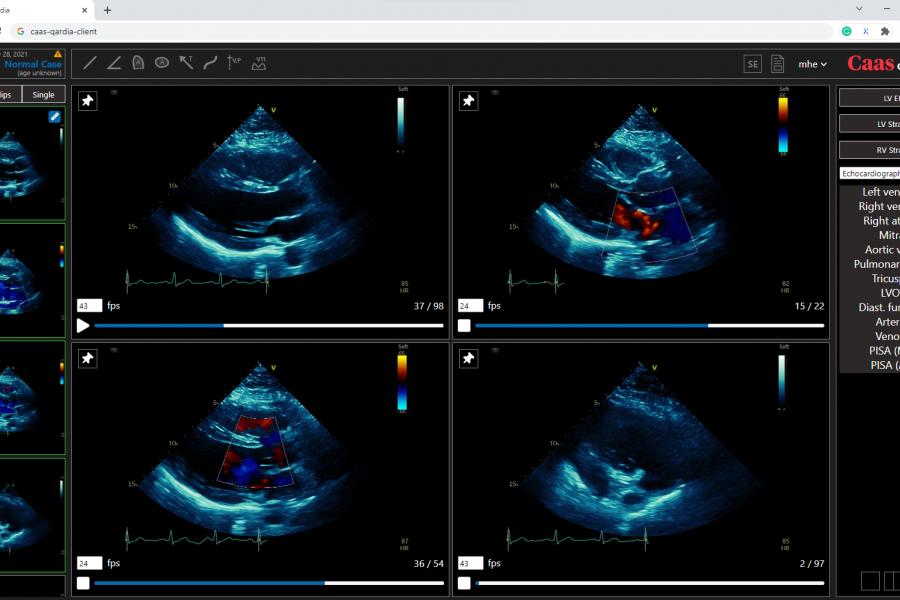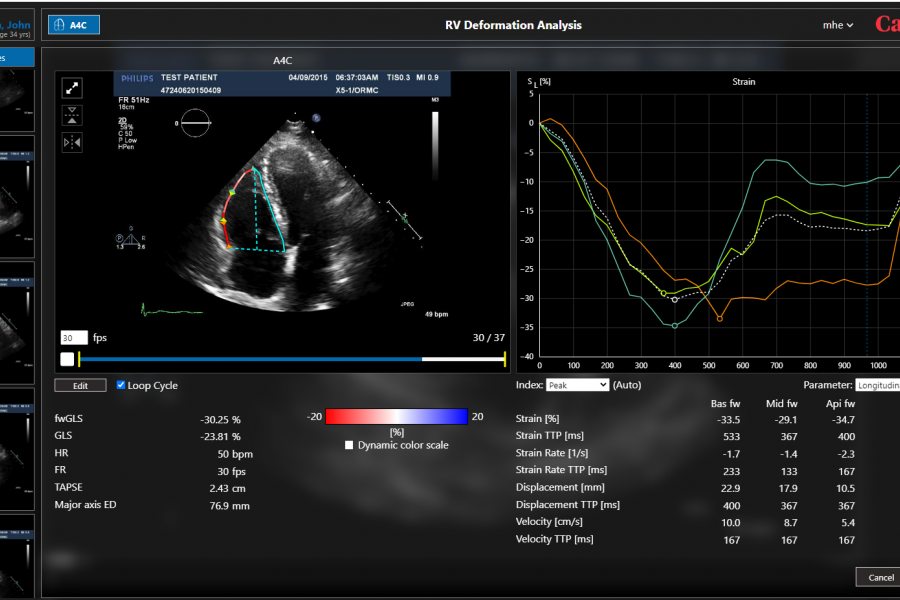 Spitzer E, Camacho B, Mrevlje B, Brandenburg HJ, Ren CB. Echocardiography Core Laboratory Validation of a Novel Vendor-Independent Web-Based Software for the Assessment of Left Ventricular Global Longitudinal Strain. J Cardiovasc Imaging. 2023;31:e20. PDF Download
Why choose us?
We always aim to improve the quality and efficiency of cardiovascular image analysis to optimize patient treatment. To realize this, we:
Provide fast and user-friendly

software

;

Align our product portfolio with the latest developments in the cardiovascular field. In this way we aim to provide our customers with the optimal software solution at the right time;

Offer

training

options which can be tailored to your needs.
We believe in the importance of training and support to assure that all our users are proficient and comfortable with their analysis. Please visit our Training & Support page for more information.